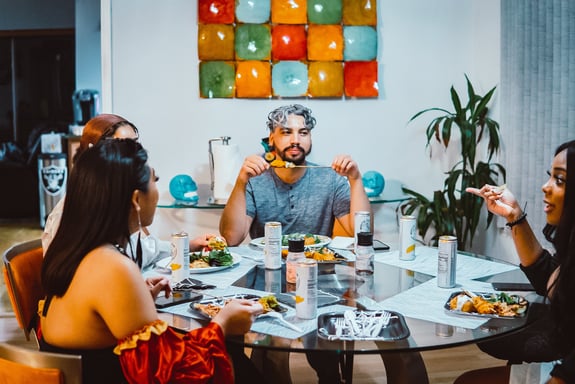 Post by Roomies — Last updated
General
Millennial Housing Communes? Real Estate's Next Trend
The way people live in the United States is evolving. With a rapidly changing housing market off the back of the pandemic, many people find themselves craving some stability. With rentals being harder to obtain and housing prices skyrocketing, the time seems right for potential renters and homeowners to unite.
A practice long accepted overseas, particularly in Europe, renting out rooms within your home is becoming more common in the US market, especially among millennials. However, this trend is also a reflection of the increased costs for the housing market, and being able to enter as a buyer is becoming harder. Renting out a portion of your new home can significantly reduce mortgage stress.
For renters, commercial landlords are part of the driving factor behind this price increase. With wages not jumping forward as quickly as housing costs (rents have increased by as much as 30% in 2022 alone) it's time to consider less traditional types of living arrangements.
However, the most surprising and fiscally sound trend we have seen on the market is coming from Millennials.  Friends have begun purchasing homes together. Most Millennials will hear the word commune and think of tales from their hippie parents. However, these agreements are enabling this cash-strapped generation to share costs and offset mortgage pressures, while pooling together a larger down payment and not having to sacrifice certain must-haves such as a desired area, or short commute. Depending on how many friends team up, it can even allow them to upgrade their lifestyle to a larger home, bigger yard, etc. For the generation that has experienced some of the highest education costs and three financial crises in their time, this trend is a refreshing take on home ownership.
How can you Navigate a Successful Housing Arrangement?
Whether you are a homeowner or renter, compatibility can mean a lot. Having a secure agreement in place can help you avoid potential issues with tenancy or ownership disputes. Knowing the laws relevant to your state is also key to your success. Ongoing home maintenance is especially important when hosting a tenant or sharing an asset, as you want to maintain the value of your investment. Being handy or having reliable sources that you can tap into during times when the house needs a repair can alleviate a lot of stress. As a renter, always be sure to view the potential residence in person and check out how clean/up to date to date the dwellings are. Some good tips are to check out bathroom sinks/tubs, peek into the closets, and take note of the flooring (older, clean, etc). It will give you an idea of how well maintained the house is and might give you some negotiating power if it is on the older/less maintained side. Be honest with yourself about what matters to you in a rental property. When purchasing a home as a group, make a list of must-haves vs want to haves to save time and view only houses you all truly want to own.
The Fine Print
There are multiple factors to consider if you are going to team-up or do a homeshare in a non-traditional situation. For homeowners, your current homeowner's policy may not accommodate this new situation. In the event you need to make repairs due to a tenant, it would ideally be covered in your policy. For tenants, rental insurance is likely to be the same, but you will want to check with a rep to be sure you are covered.
Tax-wise, homeowners will have to claim their earnings, however, don't forget to offset with expenditures! Laid down a new rug? Spruced up with fresh paint? All of these materials can be claimed if you are in fact using them specifically for a rental.
Rolling with the Times
We have heard it all from our grandparents, the Great Depression was a time to scrimp and save. Although the USA has not gone that far back, the current recession and sticker shock on homes across the country is changing our spending habits, how we live and we need to feel secure. Would you team up with a friend or relative to purchase a home?