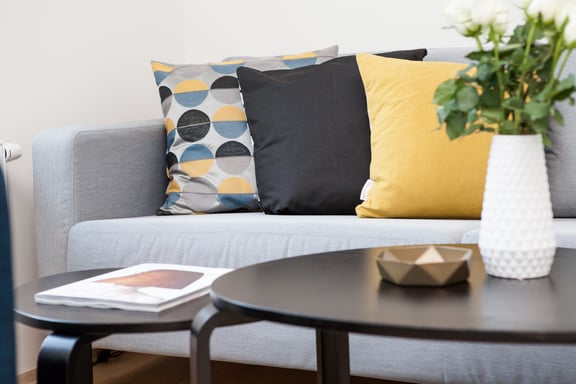 Post by Roomies — Last updated
General
Tips for Hunting Down the Perfect 55+ Rental Property
The rental market can be intimidating at any age. For those living in the 55+ community, this might be one of the first times you are in the rental market and it can seem a bit overwhelming at first. We have broken down a few simple steps and some pointers for finding your perfect home and roommate.
Scope out the perfect spot
Most people think about budget, sign a contract and consider their surroundings/amenities after signing a lease. Make a list of your must-haves (pool, extra storage, parking spot, basement level, near public transportation, etc).  Think about your day-to-day and what elements would make your commute the easiest and your social life the most fulfilling. It's also important to consider things such as the location of your current dentist, or physician and the proximity of your new dwelling to any recurring appointments.
Set up a Profile that will Attract Roomies
Setting up a profile such as Roomies can be a bit intimidating! We do have a help page with some general links that can be useful. We recommend creating a listing that has lots of information about your habits, who or what you are looking for, any recreational activities you might have and certain must-haves for your home. Having a profile picture is also a good way to add some credibility to your listing. We recommend a background check and linking your social media accounts to offer peace of mind to your new roomie.
As with any platform or online forum, there are safety precautions we like to remind all roomies to take:
Never share:
License or social security information (unless with a leasing agent).
Bank account information
Any personal data you wouldn't be comfortable sharing with others
Always meet up
Just like any relationship, you want to make sure there is good chemistry with your potential roomie. Are you both clean? Enjoy cooking or takeout? Or, is this the Oscar to your Felix? Take their lifestyle into consideration. What is their work schedule? Extracurricular activities? How often will they be home? How often will they have guests?
These are things that can impact your life a great deal. If someone offers to set up a lease or mail keys without a meeting, this is a big red flag.
Here are some other considerations to chat about with your roomie:
Allergies (peanut allergies, dairy, etc)
Cleaning products-do they like to use organic and you don't? Or vice versa
Pets...are they a must-have? Not an issue? Be clear on what animals are welcome in your home.
Diet restrictions (vegan/vegetarian, halal, kosher can all impact food storage)
Vaccinated or non? A non-issue?
Political differences
Money talks
Always have clear expectations of all financial matters before signing a lease, this goes without saying, but here are some additional expenditures you might want to consider:
Landlines-does your roommate need one? This can impact costs -Application fees
Do they work from home or away? This will affect your electric and internet bills
Are they on a special diet? If you had intended to split the cost of food this might be an issue.
Pets-a pet deposit will likely be required
Rental insurance for any shared furniture
You've found a great Roomie - whats' next?
Roomies provide a platform for roomies to meet and we let you take it from there. We do have a sample Roomie agreement you can use and a support page should you have any platform-related issues. If you've liked this article please be sure to bookmark it for further use and enjoy your new home!